As an entertainer it can be very difficult keeping the crowd happy. As a mobile DJ, band or entertainer, you always have to keep in mind what will please your audience and keeps their attention to the show. It's hard enough to perform to an audience of kids, teens, adults and senior citizens. But it's even more difficult playing to a crowd of many ages that include a multicultural mixture of guests. So what do you do when your audience is everything from American to Chinese to Indian and Spanish? You answered it, play Rap music! JUST KIDDING! There are several songs, artists and styles of music that appeal to a wide variety of guests.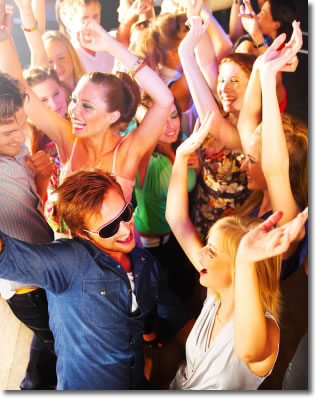 So what type of music is now (more than ever) the kind of music that in many cases can get those guests partying on the dance floor? Electronic dance music! It's true, electronic dance music is found in many music styles all over the planet. Including Gangnam Style, DJ's got us falling in love again, Disco, house music, hip hop, Flo Rida, bollywood & hindi music, latin music, and many more. There are so many styles and artists that can appeal to your audience from numerous cultures. Psy's gangnam style is a great party pleaser because of it's dance feel, house music blend and rhythmic hip hop sound. Plus the dance moves are something universal.
Some other great songs that can appeal to American crowds, Latin crowds and Indian crowds are Enuria Calabria and Mr Saxobeat. They have some great features in common. They have a dancey latin groove that also include a saxophone that many crowds enjoy. Some other good hip hop style artists are Usher, David Guetta, Rihanna, Dev dancing in the dark, Taio Cruz Dynamite and more. These songs are in the modern hip hop dance genre and are great to get a mixed audience onto the dance floor. When in doubt.... a good latin hiphop beat is a crowd motivator at many events.
Here are some other recommendations for either the host of the party or the DJ performing. If you are hosting the party and hiring a DJ or band to perform it's good to provide a small list of songs that you would like played. You can even ask some of your guests attending, their favorite artists or songs. Line dances are a great way to get everyone involved. It's best to start with the cupid shuffle and cha cha slide. Getting into the more cheesy style songs such as the chicken dance, hokey pokey and macarena are ok depending on the crowd you have but may not be as fun as the modern style songs. Another idea is to create a mix of songs ahead of time and have them prepared for the party. You can make an hour mix with some english, spanish, indian, etc songs. Parties where they enjoy Hindi or bollywood music also like disco music. It's a good choice to get the guests up on the floor. Do your research and look on the internet for lists of top songs in the styles you want. Try to mix up the songs so every type of person gets to hear something they want. Be creative and make it fun! Good interaction and a good mix of music will guarantee a successful event.
Sincerely, DJ Billman